If I were to go out for Halloween this year, I would dress up as the Nutmeg Princess. "Nutmeg is very good," Grandma informs me. I am interviewing her for a GRSJ course where I am to talk to a family elder about folk medicines. "Good for everything" she emphasizes. She lists a bunch of its purposes including as an analgesic. "Put it on the pain" she directs me.
I have never been to Grenada. When I was a child, and I dutifully would respond with the 'expected' answer ["Grenada"] to the inevitable question posed to me by a new acquaintance ["where are you from"]. I knew they were asking why I wasn't white because they never cared about my Magyar-ness or my multi-generational Scottish settler family living in Guelph. The adults would often correct me – oh you mean Granada, the place in Spain. "No," I would insist. "It's a small island in the Caribbean, located just above Venezuela. It's the second largest producer of nutmeg in the world." Of course, Grenada is named for the place in Spain… but I did not know that then.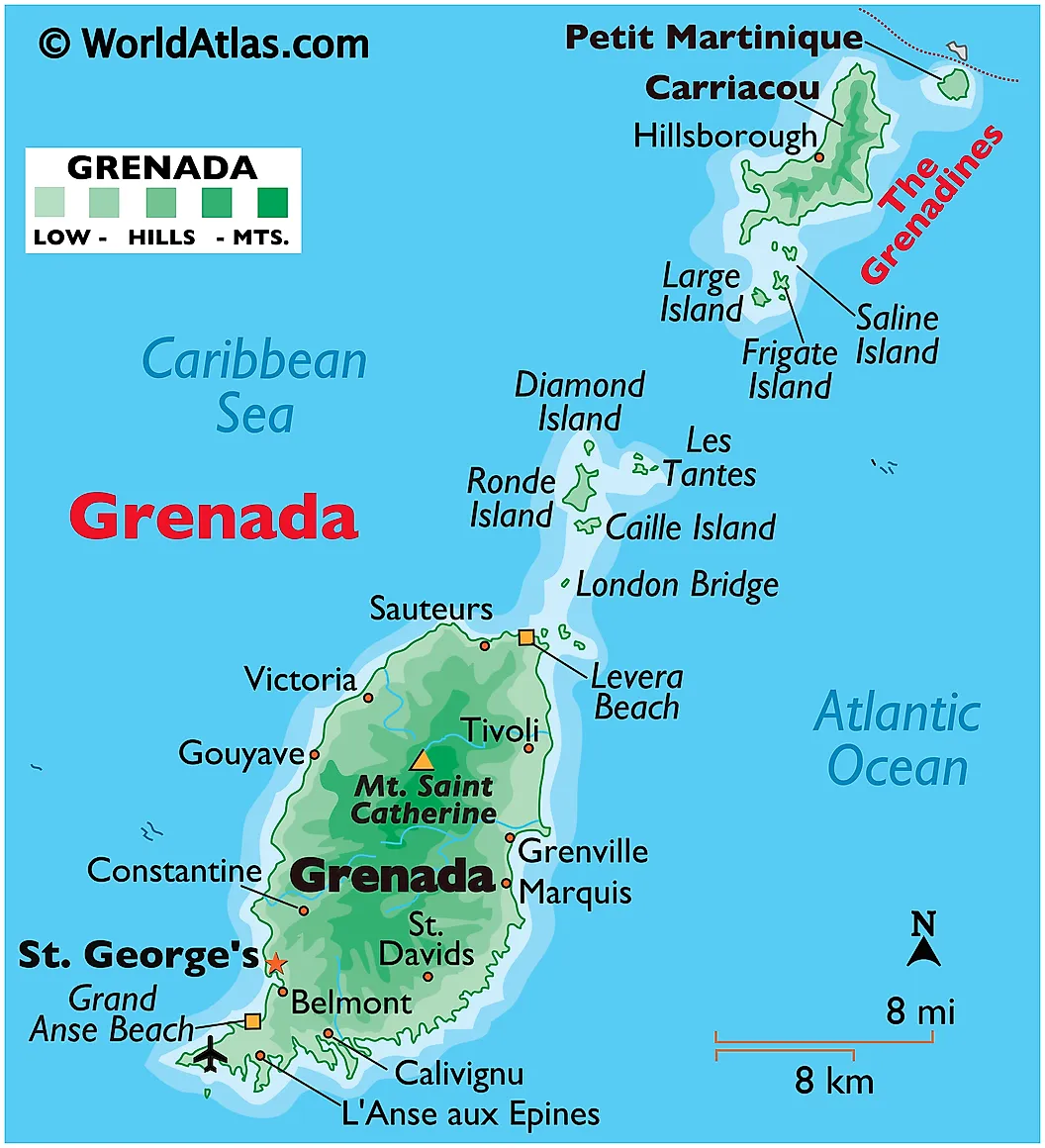 ////
My first queer love is giggling hysterically because I call my paternal grandfather 'Old Daddy'. I don't think it's funny. I am super hurt that she thinks a core part of my identity is so mockable, but I am laughing along. Ha! Ha! Ha!
Old Daddy was born in Sauteurs, Grenada. The name literally means "jumpers" in French, so named for the Carib people who chose to launch themselves off cliffs into the ocean rather than be subjected to slavery by the French colonialists. My family doesn't teach me that, this is from my own learning as an adult.
My first queer love's cousin later shares that their grandma is brown (like me) from the Caribbean (like me). I'm hurt she never told me this information. We never directly talk about it. Instead, she shares excitedly at finally being old enough to be gifted her own rum cake for Christmas. A delicacy soaked with care by this mysterious brown female ancestor that takes months to prepare. We break up way before then…but in the time between, I wondered each time as I caress her pale white skin, how many generations it would take for my own Blackness to be erased. How long until my descendants laugh uncontrollable at me and my brown otherness.
In her memoir, Shame on Me, Tessa McWatt writes (p.18):
"It's my African ancestor—my great-great-grandmother—on whom I focus my imagination. She is the gap in my family's storytelling that I need to fill, though I can't trace her precise roots in Africa. Hers is the story that has been buried deeper, most painfully ignored. Hers is the story that bear such deep shame it has been erased. But the body is a site of memory. If race is made by erecting borders, my body is a crossing, a hybrid many times over. My black and white and brown and yellow and red body is stateless, is chaos. Her body is stolen territory."
My relationship to my own brown body is inevitably shaped by shame. Grandma very strongly believes that "no one in our family was ever a slave". She also feels that she has never experienced racism in Canada. I respect her conviction, but I do not hold it. The disconnection within my own family and the realities of being Black from the Caribbean is not a Grenadian trait. See the work of Malcolm X, Audre Lorde and the people's revolution led by Maurice Bishop.
////
I have been to a slave castle in Ghana. I have seen a Door of No Return. I felt dread in my entire body during the tour (for this is an industry for economic gain & profit now. Small children yelling 'oburoni' at me and trying to sell me a spin toy right outside the castle gates.). I'm 18 years old. I had wanted to go to Italy with my high-school friends. My [white] mom said she would fund my airline ticket but only if I went on this trip instead. Her cousin, a researcher, has lived in Ghana for many years and is planning on returning home to Canada. This is a great opportunity to see the country with an expert. I'd go for three weeks there. The compromise is that I will join my friends in Croatia for a week. "You will get to connect with your roots!" she's so excited about it.
Years later my mom visits me in 'Vancouver' (on unceded territories of the Sḵwx̱wú7mesh, Səl̓ílwətaʔ/Selilwitulh and Xʷməθkʷəy̓əm) . We have a fight about this trip on Kits Beach. "I didn't want to go!" I yell at her, "I felt forced to say yes". That's not her memory, she shouts back at me: "well you could have said no Kyra!". She forgets how persistent she can be… particularly when she is enthusiastic. Her friends nicknamed her the bulldozer. She is also my mom; I wanted to please her. I do a lot of people pleasing but I am rarely credited for that labour…She is also my mom; I am dangerously similar. Yet, my mom cannot argue that I was miserable on that trip. That I made everyone else on the trip miserable. By the end of the conversation, we're laughing again. Lighter, after all, what's done is done.
////
So here I am at a famous slave castle, trying to hold back tears while our guide is pointing out a line on the dungeon walls where the colour changes. "That's how high the excrement was" she informs us. The walls are permanently stained, the line is higher than you are imagining. It reaches my belly button. The enslaved Africans [nations unknown] stood [my ancestors but also somehow not my grandma's], shackled to the walls while their skin got peeled off from the acidity of all that literal shit.
There are other things I remember from the tour: a schoolhouse where the mixed-race children [products of rape] of the enslavers learned; the shiny plaque on the wall commemorating the recent visit by the American president Obama; the beauty and tranquility of the ocean from the governor's quarters.
////
Nutmeg is not indigenous to Grenada. It's a transplant, brought from the Moluccas (Indonesia) to the small volcanic island by the white Europeans, for economic exploitation.
////
Grenada. A place I've never been. It was Old Daddy's dream to go back and swim in the ocean before he was too immobile from his Parkinson's. My entire family, except for me, went in January 2014. My university told me if I went I would [very very likely, read: absolutely] be kicked out of the nursing program. That it would be unprofessional of me. I did not have any clinicals, or quizzes…just lectures on med-surg… slides read verbatim by bored professors, pulled directly from our textbook.
Last year I was a TA for a nursing program in the lower mainland. It was a required course, but I found out when only 20 of the expected 140 students showed up that they are not mandated to attend lectures. The course was about cultural safety and equity-based nursing practice. Each course had a guest speaker, a welcome by a brilliant Coast Salish Indigenous elder, and such important only can be experienced by attending learning.
It is hard to not feel resentful. Resentful too of a family that chose to go on this important trip during an impossible time for me as a university student…a family who never seemed to see me. Old Daddy died in the late summer of 2017. He got his final wish. He had to be carried into the water, but still.
////
I dream of islands, jumping off cliffs and sinking to the bottom of the ocean floor.
////
One of the only connections I feel I have to Grenada is from my childhood. My [Black] Daddy reads a book to me, published the same year as my birth. The Nutmeg Princess by Richardo Keens-Douglas, illustrated by Annouchka Galouchko. The story takes place on the Isle of Spice, a stand-in for Grenada.
This story is how I know about the relationship between nutmeg and Grenada– but not the larger story: about how and why that connection existed. The forced movement of people and plants for profit.
I watch a video of the author telling the story online for a festival. His accent is clear and crisp, lightly flavoured with some flakes of mace. He does not sound like my family; they are the whole seed. Old Daddy and Grandma are speaking English, but I'd have to turn to Daddy for a translation. Daddy tells me had an accent when he was a kid, he'd say "axes" instead of "ask". He actively unlearnt it.
I hunt down the book, located at a branch of UBC library's but not the public library.
The Nutmeg Princess, a young Black woman, incredibly beautiful [the beauty radiates from her soul]. She's sometimes sad, sometimes happy. She sings. She chills in the middle of a lake, at the very top of a mountain. The princess only appears when the nutmeg is in bloom. She can disappear quickly – in a blink of an eye. She wears a blue dress and has long braided hair. At the end of each of her braids is a small gem, a diamond. The Nutmeg princess is invisible to everyone but a few who really believe in her and care to see her…fully/unselfishly/authentically…
////
Last night, I did end up going out for Halloween.
"KYRA!"
I'm walking along Commercial drive towards the parade of lost souls. I hear my name "KYRA!" I pause and search for the sound "KYRA!" .
The street is busy, the rain hasn't come yet… but suddenly I spot her. One of my best friends in the passenger's seat of a car. She's just leaving a drag show.
"What are you doing?" she asks me, the cars behind begin to honk. I tell her about my plans, "it will be fun" I say. She's never heard of the event, but she trusts me. She spontaneously joins me and off we go on an adventure. We wave goodbye to her friend, the driver.
I'm surprised that she saw me… there were so many people walking, but she sees me! So many fun costumes, flashing lights, sparkles… I'm wearing dark leggings, a toque and a winter jacket. I smell like campfire smoke, after a failed attempt at camping the night before (drove to the site, started to get set up. Forgot my tent poles. Returned.). I am not radiant at all. She asks how I am doing, "I'm so sad" I tell her, "but I'm trying". I force myself to smile. My brain screams don't cry, don't cry, my gut soothes: crying is okay, release! release!, my heart wonders when can I come home?
She reminds me we became friends when I was incredibly sad. When I just began to practice self-compassion. I ask her if I'm always sad. "No," she says, "sometimes you are happy".
I tell her about my costume. How I am a Princess that only a few can see. How much it has warmed my heart that she saw me. That she sees me. We march in a parade, we take in some funky brass music, we watch a fire show, we get expelled by witches, we dance. She asks me about my future. I tell her about my confusion, my uncertainty but also my ideas. By the end of night, my smile is no longer forced. Suddenly, I'm at at the start of something new… and I cannot wait! [But don't get me wrong, I still don't know what 'it' is!]. However I feel I can face it with a deep and genuine joy.
I don't need to a princess for everyone. Just for folks who really want to see me as I am [compassionate mess/ full spice/sometimes happy/sometimes sad/dreaming of water]. In return, I promise to see you too.
In love/in kindness/ in endless compassion.